Policy briefs
Policy briefs are irregular publications of Finance Think. They are a product of the overall work of the think tank and can stem out of activities like: projects, brief analyses, published articles, round tables and the like. The policy briefs are considered powerful advocacy tool of Finance Think. They are intensively communicated with the associated stakeholders through being sent to the relevant government agencies or presented at mutual meetings and conventions, and are through the communication platforms of the Institute.
Editions can be accessed here: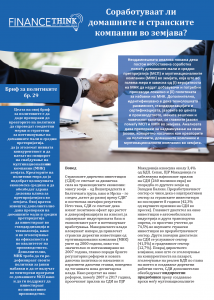 Policy brief 29
Do domestic and foreign companies in the country cooperate?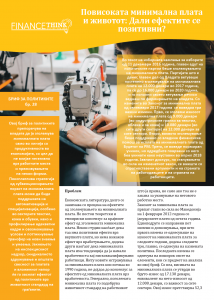 Policy brief 28
The higher minimum wage and the life: Are the effects positive?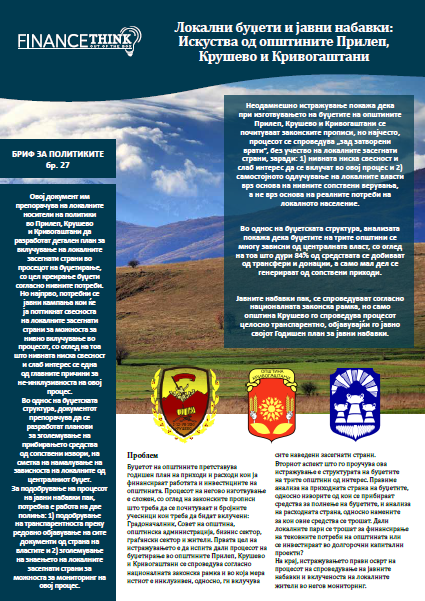 Policy brief 27
Local budgets and public procurement: Experiences from the municipalities of Prilep, Krusevo and Krivogastani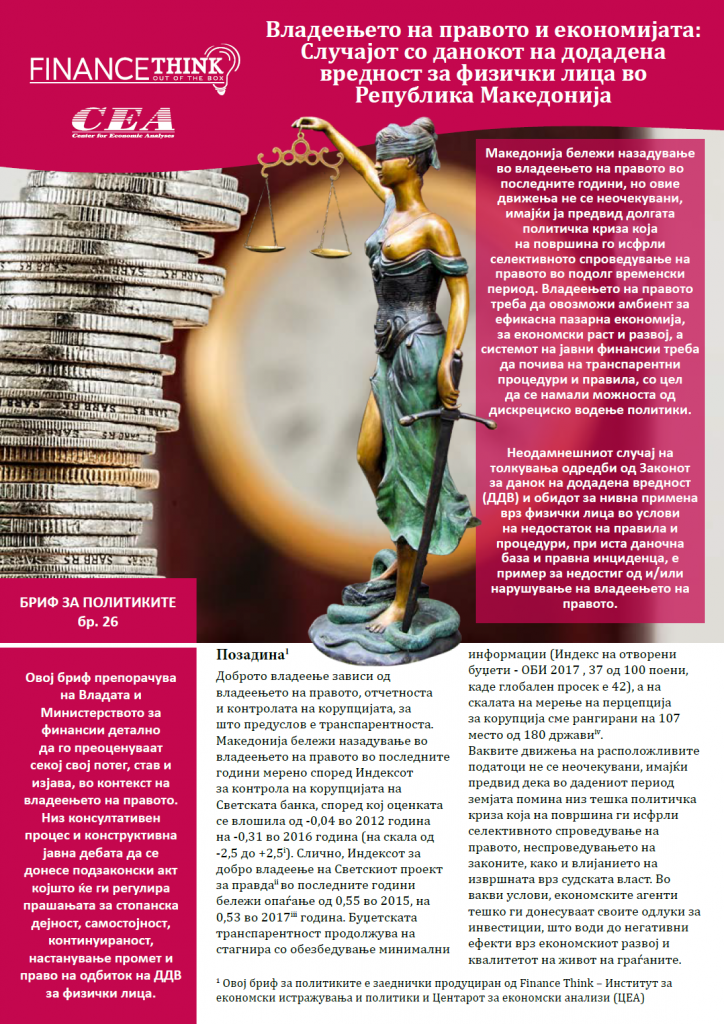 Policy brief 26
The Rule of Law and the Economy: The Case of the Value Added Tax for Individuals in the Republic of Macedonia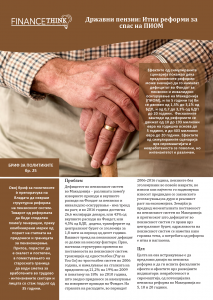 Policy brief 25
State pensions: Urgent reforms for Pension Fund rescue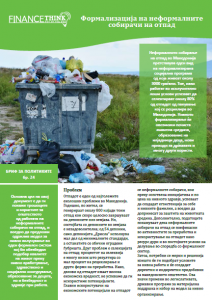 Policy brief 24
Formalizing the informal waste collectors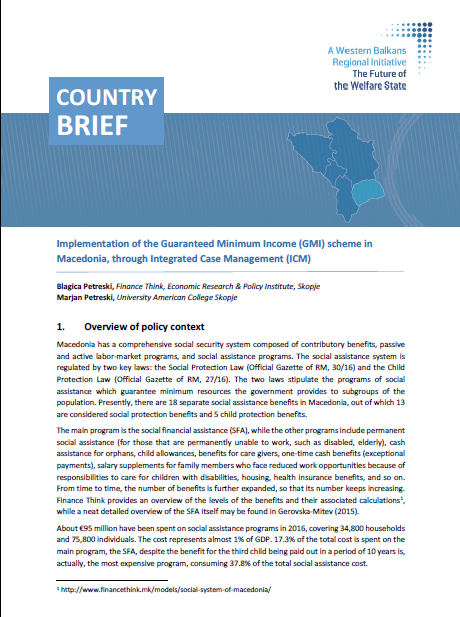 Policy brief 23
Implementation of the Guaranteed Minimum Income (GMI) scheme in Macedonia, through Integrated Case Management (ICM)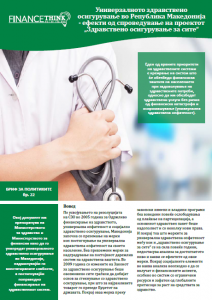 Policy brief 22
Universal health insurance in the Republic of Macedonia – effects of the implementation of the 'Health Insurance for All' project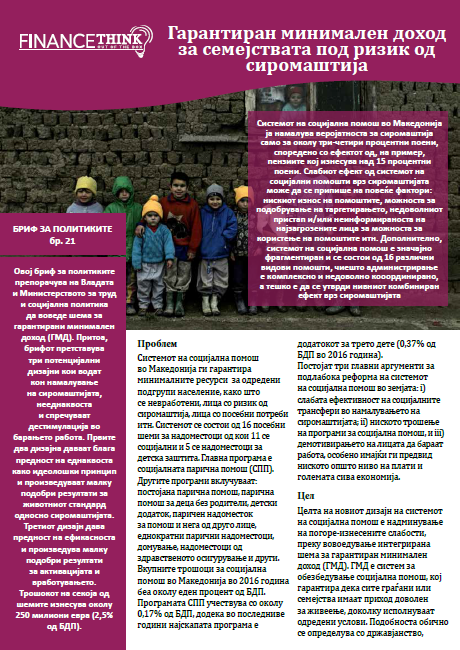 Policy brief 21
Guaranteed minimum income for families at risk of poverty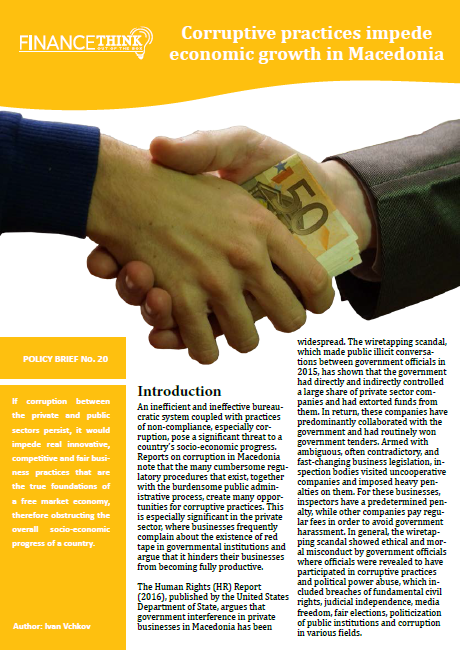 Policy brief 20
Corruptive practices impede economic growth in Macedonia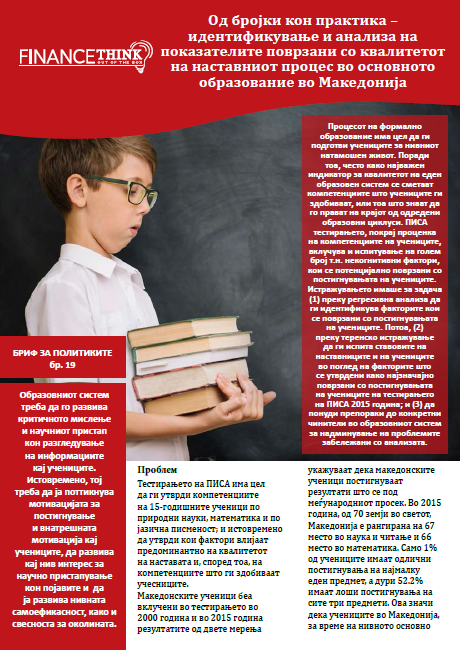 Policy brief 19
From numbers to practice – identification and analysis of the indicators related to the quality of the didactic process in the primary education in Macedonia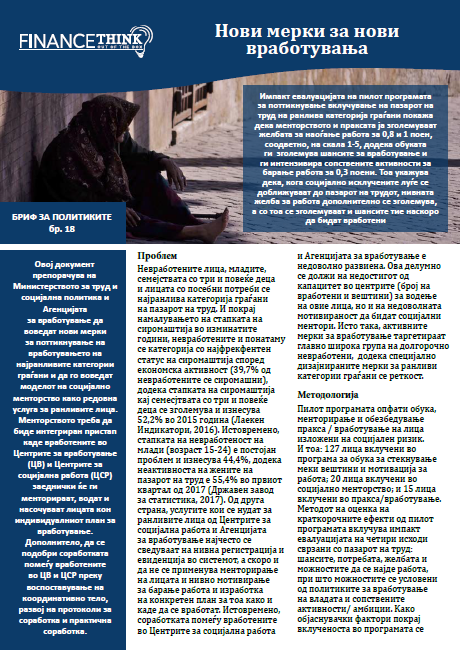 Policy brief 18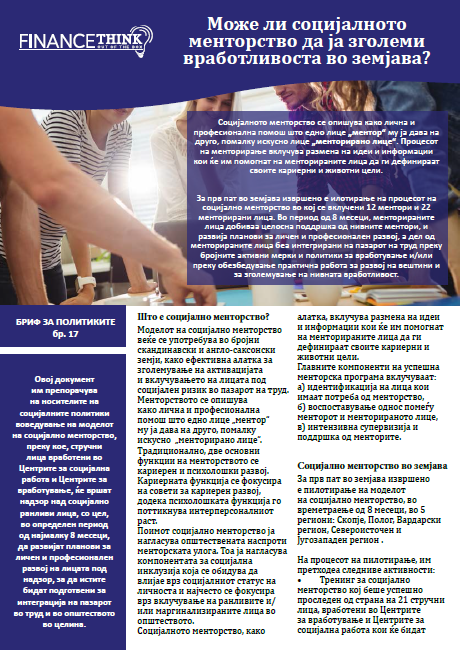 Policy brief 17
Could social mentorship increase employability in our country?
Policy brief 16
Are Macedonian government and public debt sustainable?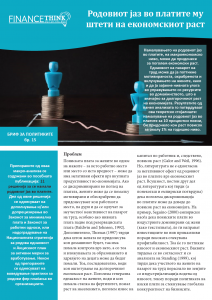 Policy brief 15
The gender wage gap is detrimental for economic growth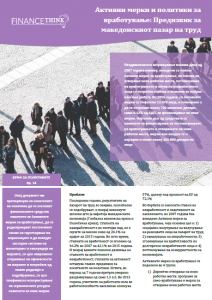 Policy brief 14
Active labor-market programs and policies: Challenge for the Macedonian labor market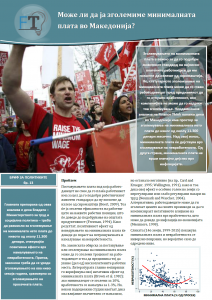 Policy brief 13
Can we increase the minimum wage in Macedonia?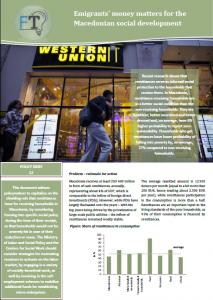 Policy brief 12
Emigrants' money matters for the Macedonian social development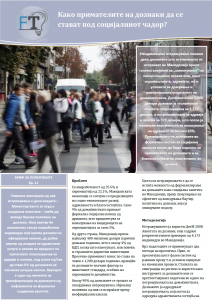 Policy brief 11
How to put remittance receivers under the social umbrella?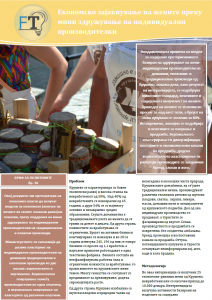 Policy brief 10
Economic empowering of women through mini-clustering of individual producers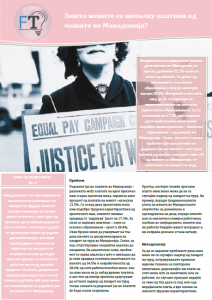 Policy brief 9
Why women are less paid than man in Macedonia?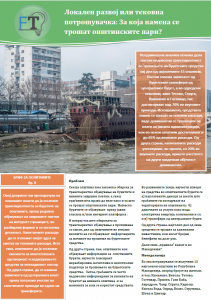 Policy brief 8
Local development or current consumption: For what purpose are municipal money spent for?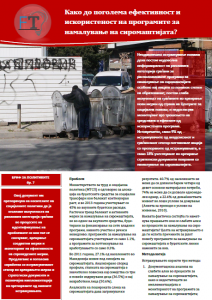 Policy brief 7
How to increase the effectiveness and utilization of the programs for poverty reduction?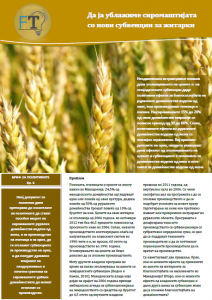 Policy brief 6
Let's alleviate poverty with new subsidies for crops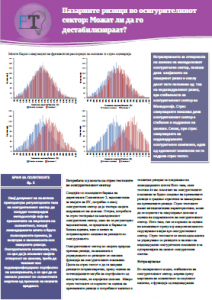 Policy brief 5
Market risks in the insurance sector: Can they destabilize it?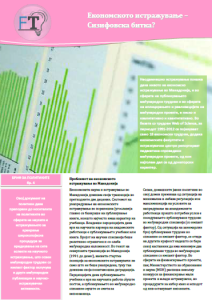 Policy brief 4
Economic research: A Sisyphus battle?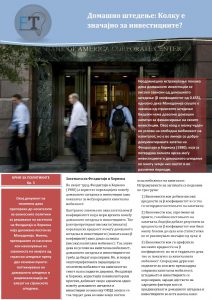 Policy brief 3
Domestic saving: Is it important for investment?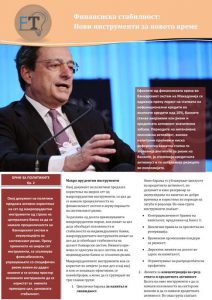 Policy brief 2
Financial stability: New instruments for the new time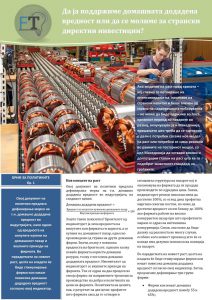 Policy brief 1
To support domestic value added or to pray for foreign direct investment?